Dollar sinks to 10-month low on weak inflation and retail sales data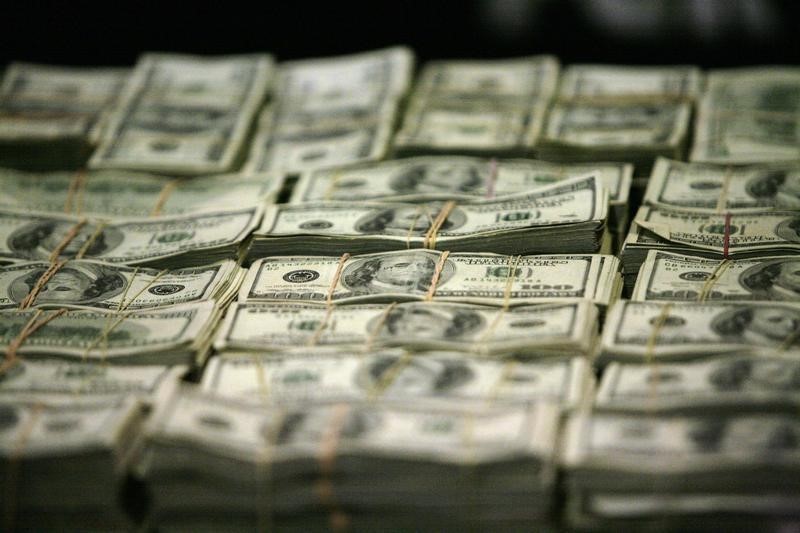 © Reuters. The dollar dropped to a 10-month low on Friday
Investing.com – The dollar slumped to a 10-month low against a basket of global currencies on Friday, after a duo of economic reports showed a slowdown in inflation and retail sales, pointing to weakness in the U.S. economy.
The U.S. dollar index, which measures the greenback's strength against a trade-weighted basket of six major currencies, fell by 0.54% to 95.04.
Inflation and retail sales data undershot forecasts, raising concerns about the strength of the U.S. economy, narrowing the prospect of the Federal Reserve adopting a faster pace of rate hikes.
The rate of inflation over the past 12 months slowed to 1.6% in June from 1.9% in the prior month, and it is down from a five-year high of 2.7% just five months ago.
Economist had expected an inflation reading of 1.7%,
Adding to the negative sentiment on the U.S. economy, was a report showing a 0.2% dip in retail sales.
It was the second-straight month of timid retail sales activity, and missed economists' forecasts of a 0.2% increase.
The weaker than expected data weighed on the U.S. 10-Year suggesting that investors are less optimistic about the pace of future interest rate hikes.
The pound and euro were the main beneficiaries of a slump in the greenback, hitting session highs and remained on track to close positive for the week.
GBP/USD rose to $1.3078 while EUR/USD added 0.47% to $1.1452.
Elsewhere the oil-linked Canadian dollar benefited from an uptick in oil prices, adding to recent gains against the greenback on the back of the Bank of Canada's decision to raise rates on Wednesday.
USD/CAD fell by 0.50% to C$1.2659 while USD/JPY dropped to Y112.64, down 0.56%.
[ Source :- investing ]
---
---
---
Ethereum and bitcoin on track for weekly loss
Yen in the dumps as carry trades flower
---
---